Gum grafts are performed for patients who have excessive gum recession and need to protect their teeth from damage.
---
What is a gum graft?
A gum graft is a surgical procedure that thickens gums. It may be necessary to protect your teeth from the damaging effects of gum recession. Gum grafting is also done for aesthetic purposes.
How long is the procedure?
Gum grafts, depending on how much gum recession you are experiencing, can take between 1-2 hours.
Will I experience any discomfort while in the gum graft procedure?
We will provide you with anesthetic during the gum grafting procedure which means your mouth will be frozen in the treatment area. 
How long is the healing process?
Your mouth may take a few weeks to fully heal. However, you should be able to get back to work, or your normal activity even the day after your appointment. Patients will be able to go home after the procedure.
Your dentist will give instructions on how to care of your mouth after your gum graft procedure. We recommend that you follow these instructions diligently.
Gum grafting might be recommended for you if you are experiencing gum recession.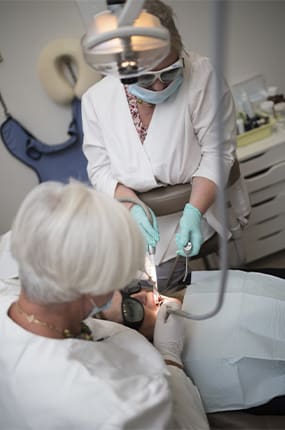 Questions about our services? Ready to book an appointment?
Discuss your dental care needs with our team at Ottawa West Dental today.
Request Appointment