Questions about our services? Ready to book an appointment?
Talk to the caring, professional team at Ottawa West Dental today.
The Ottawa West Dental office has been serving the west-end Ottawa and surrounding communities for 40 years. Our dentists, dental hygienists and dental assistants are here to care for you and your family.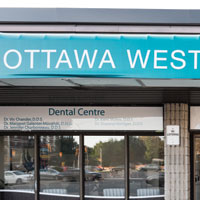 Whether you have a cavity (or cavities), require an implant, or need a root canal, our dentists are here for you.
Our dental office provides services that range from general dentistry, to cosmetic services, and even services for children.
If you live in the west-end Ottawa area, we are the dentist you have been searching for.
Located conveniently on Carling Avenue, our dentists are here to provide you with comprehensive dentistry services.
We Look Forward to Seeing You at Ottawa West Dental!